iM FARMING VICON LATEST NEWS
Have a look here iM_Farming_Magazine_5
iM Calculator
iM Calculator – the new iM FARMING savings calculator
Do you also want to save costs on your spreading, spraying or seeding?

With the iM Calculator you can now calculate your possible saving for your farming situation.

This App is able to make a true estimation* of the possible savings based on your farm size, fields shapes, working width and actual costs of spreading, spraying and seeding

CLICK HERE to open the iM Calculator and add the field data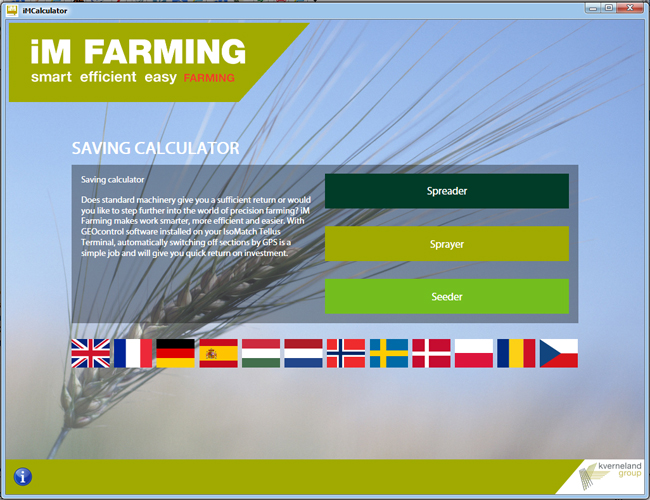 Tip:
If the Claculator does not open, check if your browser has a "pop-up stopper"
– or press down "Ctrl" on your keyboard, whiele clicking the link again.
*The calculated savings are based on many years of practice field test at farms all over Europe.
In some cases your actual savings can even be higher.
Vicon EXTRA 736T receives Machine of Year 2017 Award At SIMA
Vicon's new groundbreaking mower conditioner, EXTRA 736T Vario, has been voted the winner of the Machine of the Year award in the Forage Equipment category at the 2017 SIMA Show.
A highly prestigious award rewarding new innovative technology, the selection was made by independent journalists representing 17 of Europe's leading farming magazines. The EXTRA 736T is a new powerful mower conditioner with superb ground tracking, thanks to the new innovative QuattroLink suspension concept.
EXTRA 736T is fitted with the new Vicon suspension concept called QuattroLink. QuattroLink provides an accurate tracking ability and a highly flexible working range. The mowing unit is pulled by the 4-arm suspension, fitted onto a fixed carrying arm that allows the mowing unit to float independently over the field, adjusting precisely and instantly to any changes in ground contours.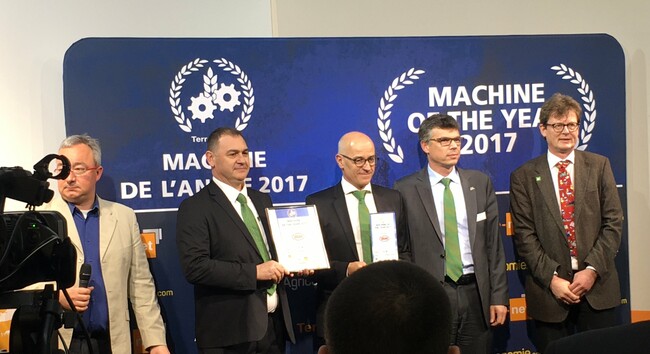 Utmost precision!
The more precisely and evenly a seed is sown, the easier it is to work and harvest, and the greater is the possible yield. Seeding with GPS and GEOcontrol in combination with the Unicorn synchro-drive II is a major step towards precision and cost saving. These machines are all equipped with ISOBUS technology which, with the help of the IsoMatch Tellus terminal, can be easily controlled.
As innovative supplier of agricultural implements, Kverneland Group profiles itself as leading company in the field of electronic steering systems. The communication concept iM FARMING describes and presents our offering on ISOBUS machinery and solutions for electronic steering of implement – giving an insight into the benefits and efficiency of our extensive offering.
Precise seeding with GEOcontrol & GEOseed®
GEOcontrol – cost saving with immediate payback
Each electric driven seeding element, in combination with GPS and GEOcontrol, is automatically switched on or off in exactly the right place, ensuring there is no overlap with any row that has already been seeded. This is especially handy in triangular fields, on curved or irregular shaped headlands. You can also continue seeding at night since the switching on/off of the seed elements is completely reliable.
GEOseed® – Precision at high end
GEOseed® is optional equipment for the UNICORN synchro-drive II. In combination with GEOcontrol and RTK-GPS, the UNICORN synchro-drive II with GEOseed® allows seeding in parallel and diamond pattern.
Alignment of the seed placement in parallel or diamond pattern – beyond the machine width
Optimum use of nutrients of the soil – by even plant distribution
Avoiding water – and wind erosion in hilly conditions
Depending on seed distance "cross" – interrow cultivation possible
Patented system